Here we'll list a selection of highly-rated, hard to find wines that would serve as excellent additions to your home collection.
                                                                   Clos Des Lambrays 2015   
 95 pts Robert Parker's Wine Advocate
" The 2015 Clos de Lambrays Grand Cru contains 95% whole cluster fruit, part of the crop with thicker skins deprived of their stems according to winemaker Thierry Brouin. It is being aged in 50% new oak. It has dusky black fruit on the nose, earthier than I was expecting given the growing season, the stem addition lending a subtle undergrowth and moss-like scent. The palate is medium-bodied with grainy tannin and offers succinctly judged acidity. It is certainly harmonious in the mouth with a generous dash of black pepper on the finish, a pleasant prickle in the mouth after the wine has departed. Whilst not the purring engine that is Clos de Tart since it is more rough-hewn perhaps, this Clos des Lambrays has a charm of its own. "     $354.99 / 750ml
—–
Eola Hills Pinot Nior 2014

                                                       86 pts Wine Spectator
The 2015 growing season was ideal, resulting in a record amount of high quality, balanced fruit for Eola Hills Wine Cellars.
An early, warm dry spring resulted in an early and beneficent bloom. Clusters were large and no, to little shot berries were evident. The trend continued into summer. Though we had little to no rain, the humidity was high and the vines loved it. Coupled with a record number of 90+ degree days, disease pressure was pleasantly low.
In the words of head winemaker Steve Anderson: "The 2014 crop was early, heavy, ripe, bright and clean. As a winemaker, I have experienced a bountiful, or heavy, crops which can be characterized as weak in flavor and or color. Alternatively, I have experienced the Grand Vintage, characterized by low yields, exceptional flavor and color. 2015 is one for the history books. Not only was it a bountiful harvest, it was a Grand Vintage."
$17.99 / 750ml
—–

Hundred Acre 2014 Cabernet Sauvignon Ark

     98-100 pts Robert Parker's Wine Spectator
" From Howell Mountain, the 2014 Cabernet Sauvignon Ark reveals the mulberry, chocolate, graphite and an incredibly dense bluish black color, massive fruit extract and richness, but without a hard edge to be found. All three of these are extraordinary wines, which is what we've come to expect from Jayson Woodbridge."
    $499.99 / 750ml
—–

CADE Reserve Cabernet Sauvignon 2014  
94 pts Wine Spectator 
The 2014 CADE Estate Cabernet Sauvignon, Howell Mountain is soft, supple, open-knit and a real beauty. The color is a healthy, deep purple and the wine full-bodied, rich with mulberry, black cherry, dark chocolate, blackcurrant and blackberry fruit, graphite and spice – insanely approachable now given it's silky personality but capable of evolving forup to 15 – 20 years, if you're patient enough.
$219.99 / 750ml

—–
Chateau de Beaucastel Châteauneuf du Pape 2015
92 pts Wine Spectator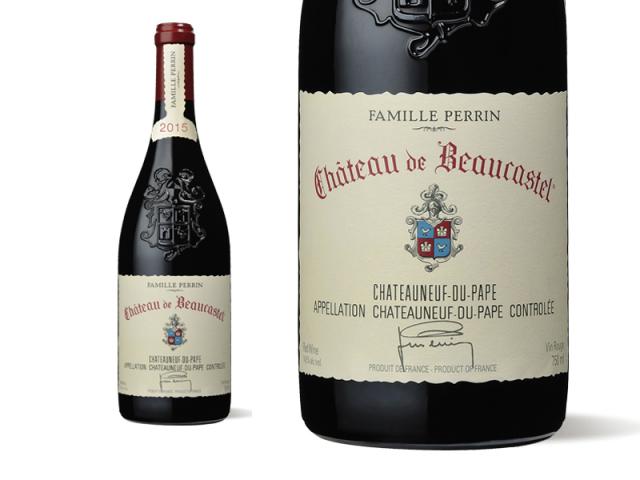 Château de Beaucastel has long been regarded as one of the greatest wines in France. It is notorious for its elegance, balance and ageing potential. Beaucastel has an exceptional terroir at the Northern limit of Châteauneuf du Pape, exposed to the Mistral wind. All thirteen varieties of the appellation have been organically grown since the sixties.

With a beautiful intense carmine-red color, this 2015 Beaucastel has a lively attack and very quickly reveals aromas of beautiful red fruit. The finish has delicate notes of licorice with powerful but not aggressive tannins. A great vintage of Beaucastel red.
"A stunner from the get-go, with waves of thoroughly seductive boysenberry, plum, blueberry and raspberry reduction forming the core, while roasted apple wood, rooibos tea, bergamot, and anise notes flash throughout. Has plenty of bass, with a Turkish coffee accent and a hint of alder driving underneath. Everything moves in lockstep through the seriously long finish. Best from 2020 through 2045."
$144.99/750ml
—–
Peter Michael Au Paradis 2014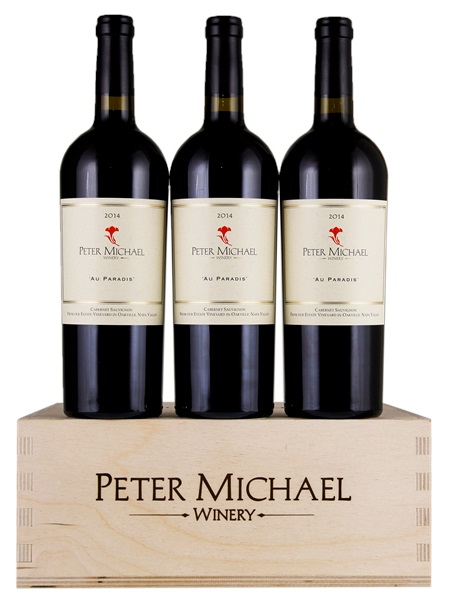 99 pts James Suckling
Extremely perfumed with iron, clay and currant character. Copper pennies and hints of steak. Then this turns to flowers, iodine and oyster shells. Full body that's juicy and defined by hefty blackcurrant flavors and real meatiness. Dark-chocolate and orange-peel undertones. Extremely long and flavorful. About three-fourths Cabernet Sauvignon with the rest being Cabernet Franc. Excellent follow-up to the 2013.
$239.99/750ml
—–

Soter Pinot Noir 2015

98 pts James Suckling
Tons of pressed violets and lavender as well as blueberries, plenty of herbs, cedar, almonds and acacia come through on the nose, before ginseng, ivy and slate kick in. The palate is so structured with intense yet velvety tannins and layers of fruit and spices. Such tension in terms of the fine acidity but intensely full-bodied. A great wine that will age for decades. Drink from 2020 and well beyond.
$79.99/750ml